Economists have rarely been so divided on whether the world will crash into the mountain of inflation or sink into the ocean of deflation.
Here we pit the arch-doves against the arch-hawks.
First up for the doves is Société Générale's global strategist and arch-bear Albert Edwards. Not one to pull his punches, Edwards describes the central banks and economists in charge of fiscal and monetary policy as 'clowns' who, he believes, are dragging the world back into recession.
While he thinks fiscal hawks are right to believe current Western financial markets are unsustainable – and their governments insolvent – he thinks doves are correct in thinking current tightening will push us back into recession.
Edwards warns: 'With core inflation rates now sub 1% in the eurozone and the US, we are only one recession away from Japanese-style deflation. Recent fiscal tightening will hasten the speed of our descent into this quagmire.'
He believes that further out, super inflation will be the only (or least bad) way out of the mess.
Counter to this, some hawks are concerned that the loss of independence by the Bank of England means there has been a certain complacency over rising interest rates.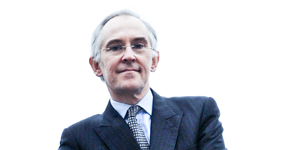 Brooks Macdonald's head of Edinburgh office Gareth Howlett (pictured) believes the Bank was turning a blind eye to the inflationary threat.
Howlett notes that one member of the Monetary Policy Committee, Andrew Sentance, voted at the last MPC minutes for action to control the threat of inflation.
Howlett said: 'It's far too politically convenient to have a degree of inflation right now. Do you know anyone who is paying more than 2.5% for their mortgage at present?
'I think everyone's mortgage in the UK is below interest rate levels. That's hugely stimulating. We are in a phase where the economy is going to be reflated because we've got so much debt in the system,' he added.
Turcan Connell chief investment officer Haig Bathgate (pictured) is another who sees the danger of inflation lying ahead.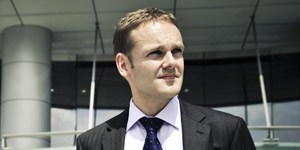 Bathgate sees the rise in VAT to 20% from next January as bringing forward domestic consumption towards the end of the year. 'The delayed increase in VAT will bring forward consumption towards the end of the year and bolster the economy accordingly, but it will also further fuel inflationary pressure,' he says.
Gavekal's economist James Barnes thinks the current 'dovish Fed' will look to keep rates low for a prolonged period.
He said: 'After the recent Fed statement investors are, for the first time since February, no longer expecting a rate hike over the next six months. As a result, playing the yield curve makes sense and, in turn, this pushes down the long end of the curve.'
Barnes thinks the latest moves in bond markets are possibly reflecting a greater possibility that deflation could be on the cards further out.
He notes: 'In Europe, equities have outperformed their peers since the big bailout announcement in May, yet investors are continuing to take refuge in German Bunds.'
Negative pointers
Barnes notes that there have been 14 negative economic pointers in terms of major US economic news this month, compared to just six positives – the worst performance since the start of the rebound.
He said: 'The US has thrown up some weak data of late, which is giving credence to fears that a new normal of low structural GDP growth.'
Many fear that, as stimulus is gradually removed, recent rebounds will prove short-lived.
He cites the latest sharp drop-off in US housing transactions after the major tax credit programme expired in April, and the fact that US employment figures are still not much below recent peaks as examples.
Barnes concludes: 'Ultimately, the rally in bond markets points to continued fears of deflation.'
Former MPC member David 'Danny' Blanchflower is another heavyweight dove, who pulled no punches when he talked about the round of cuts announced by chancellor George Osborne at last week's emergency Budget.
'The current plan to cut spending is the worst economic decision in a hundred years and we are currently living through a new era of economic mistakes,' he said. Echoing recent comments from James K Galbraith, Blanchflower said economic growth could only come from bank lending or government spending.
'The point is if you have no government spending and no bank lending, there is no show in town.'
Economic stimulation
Ideally, Blanchflower believes the best course to avoid the possibility of a deflationary future would be to do more to stimulate the economy now. Only after this has started to bear fruit, he says, should attention turn to cutting public expenditure at any meaningful level.
'If [the private sector] is on its knees, help it – and when it has recovered then move out of the way,' Blanchflower said.
He also points out that in his view, the latest forecasts by the Office for Budget Responsibility are 'wildly optimistic.'
He said the recovery in most developed economies was losing steam and that few had even seen even a quarter of 0.7% growth.
'Across the OECD, no-one is seeing steady 0.7% growth. They're actually seeing a slowdown,' he said.
The hawks versus doves argument will run and run, but the lack of clarity is perhaps summed up best by a Citywire poster responding to Albert Edwards' gloomy economic forecast: 'The deflationary/inflationary argument is such a fine line. Flipping from deflation to high inflation is entirely possible. The Goldilocks period we went through prior to 2008 was a phantom, driven by debt and cheap Chinese exports not by sensible policy.'